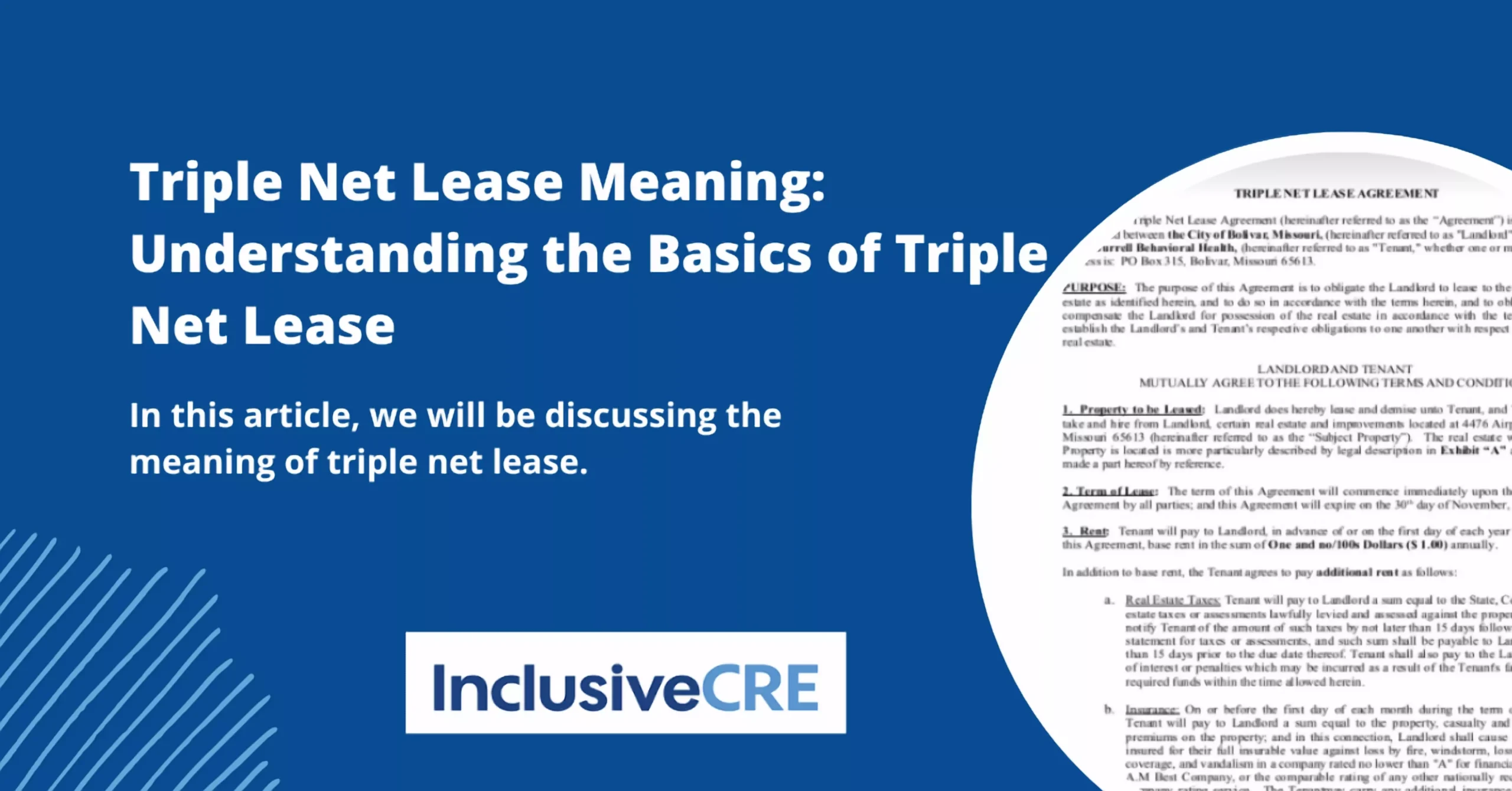 Description: In this article, we will be discussing nnn meaning as it pertains to commercial real estate leasing.
What does triple net lease mean? Triple net lease (NNN) is a commercial lease agreement where the tenant pays base rent, utilities and is also responsible for property taxes, maintenance, and insurance.
Here is a triple net lease example:
| EXPENSE ITEM | MONTHLY EXPENSE | ANNUAL EXPENSE |
| --- | --- | --- |
| Base Rent | $5,000.00 | $60,000.00 |
| Utilities | $200.00 | $2,400.00 |
| Real Estate Taxes | $1,000.00 | $12,000.00 |
| Maintenance (lawn service, etc) | $300.00 | $3,600.00 |
| Property Insurance | $150.00 | $1,800.00 |
| TOTAL COST TO LEASE | $6,650.00 | $79,800.00 |
There is a lot of confusion around the NNN meaning. Each N represents: real estate tax, property insurance, and property maintenance. Utilities are also paid by the tenant. Tenant pays whatever utility the business consumes (electric, gas, water, internet, etc).
Base Rent +NNN = Total Lease Obligation
or
Base Rent + RE Tax + Insurance + Maintenance = Total Lease Obligation
Triple net properties have gained popularity among investors due to their potential for stable and passive income.
Many investors, including individuals, real estate investment trusts (REITs), and institutional investors, are attracted to the long-term lease agreements and reliable cash flow associated with these properties.
Triple net leases typically have long lease terms, often ranging from 10 to 20 years or more. This provides stability for the property owner, as finding new tenants frequently is less of a concern.
Additionally, these leases may include rent escalations tied to inflation (CPI increase) or predetermined percentages, offering potential income growth.
Triple net properties can encompass various sectors, such as retail, office, industrial, healthcare, and more.
This diversity allows investors to choose properties based on their preferences, risk tolerance, and market conditions.
Since tenants are responsible for property expenses, the financial burden associated with taxes, insurance, and maintenance is transferred from the property owner to the tenant.
This reduces the owner's risk exposure to unexpected costs and provides a predictable stream of income.
Triple net properties are often considered a passive investment because the property owner is not actively involved in day-to-day property management.
The responsibility for property upkeep and repairs lies with the tenant, allowing investors to focus on other ventures.
CAP Rates (Capitalization Rates)
Cap rate is a commonly used metric to evaluate the return on investment for commercial properties.
Triple net properties generally have lower cap rates compared to properties that require more active management, as they are perceived as lower-risk investments.
Cap rates for triple net properties can vary depending on factors such as location, tenant quality, lease terms, and market conditions.
Evaluating the financial stability and creditworthiness of the tenant is crucial when considering a triple net property investment.
Strong national or regional tenants with good credit ratings provide greater confidence in the tenant's ability to meet lease obligations, reducing the risk of default.
Triple net properties offer various exit strategies for investors.
They can sell the property to other investors, potentially realizing capital gains.
Additionally, some investors may consider a 1031 exchange, which allows them to defer capital gains taxes by reinvesting the proceeds from the sale into another qualifying property.
It's important to note that while triple net properties can provide numerous benefits, thorough due diligence, market research, and consultation with real estate professionals are essential before making any investment decisions.
If you're searching for triple net properties for sale, explore InclusiveCRE's property listings section, featuring Top Commercial Real Estate Listing Platforms on the web. Here you will find over 40 commercial listing platforms that advertise triple net lease properties for sale.
For more information and guidance on buying triple net properties, read our comprehensive article, "NNN Due Diligence Checklist: Documents to Review When Buying Triple Net Properties."
Other Articles You Might be Interested in Reading
Disclosure: We partner with companies that offer products and services that help our readers achieve their goals. If you purchase through one of our partner links, we get paid for the referral at no additional cost to you.